HONMA BERES IE-06 IRONS
MAXIMUM PERFORMANCE WITH LOW CENTER OF GRAVITY AND INCREASED FORGIVENESS
Mô tả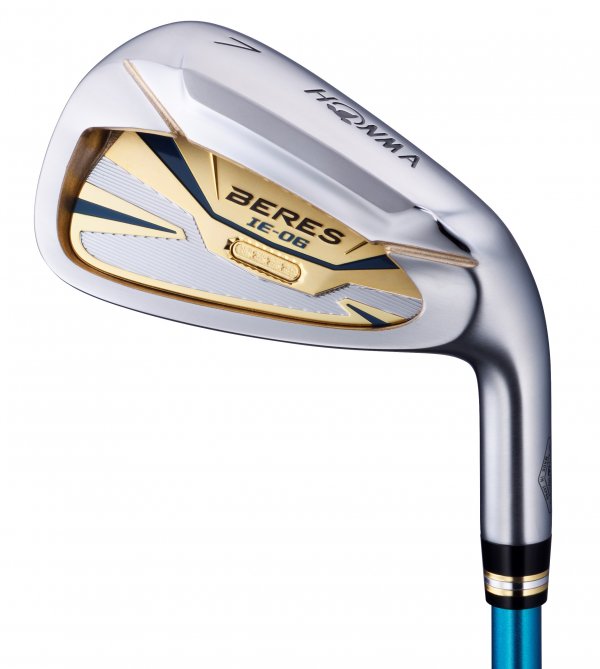 DESCRIPTION
New head design
New structure designed with a low center of gravity by the use of 20g Tungsten weighting in the sole that helps to launch the ball higher.
The thinner and larger face (5% larger than IE-05) togheter with the new head material (maraging stainless steel AM355P) provide an expanded repulsion area to increase the carry distance even with low swing speeds.
The new design of the wide sole improves turf interaction from any lie.
The tungsten weighting located on the back of the sole promotes a deeper center of gravity.
The new cavity design enjoy a gorgeous appearance and high visual impact providing a premium-feeling that meets players high espectations.
New ARMRQ X shaft designed to perfectly match IE-06
By the use of Torayca carbon fibers specifically selected for this new shaft our engenieers have been able to reduce the weight of the shaft by 1gr, maintaining the soft feel and consistency, and reducing the backspin.
The adoption of the new X layer (10 axis cross fiber) is a key element for the performance of this new shaft generation.
STRUCTURAL DRAWINGS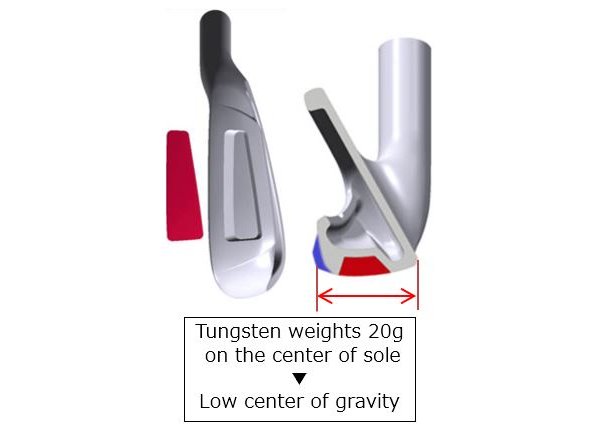 Tungsten weighting
New wide sole design
New face design
SPECIFICATIONS
Head material
Maraging stainless steel (AM355P) with Tungsten weighting
Manufacturing process
Casting
Shaft
ARMRQ X 43
Number
#5
#6
#7
#8
#9
#10
#11
SW
Loft (deg.)
24
27
30
34
38
43
49
56
Length (inch)
38
37.5
37
36.5
36
35.5
35
35
Lie Angle(deg.)
61
61.5
62
62.5
63
63
63
63.5
Face progression(mm)
1.75
2.25
2.75
2.75
3.25
3.75
3.75
4.25
Bounce angle(deg.)
7
10
Length of Hosel(mm)
57
57
57
57
58
58
59
59
Length of Head(mm)
105
105
105
105
104.5
104.5
104.5
104.5
Height of Face(mm)
55.5
56
56
57
58
58.5
59
59.5
Thickness of blade(mm)
5.5
5.5
5.5
5.5
5.5
5.5
5.5
5.5
Width of Sole(mm)
29.5
29.5
29.5
29.5
29.5
30
30
30.5
Head Weigth(g)
243
249
255
261
268
275
283
283
Swing weight·Gross weight (g)
ARMRQ X 43
R
C6·332
C6·338
C6·344
C6·353
C6·359
C6·368
C6·374
C7·376
S
C7·335
C7·341
C7·347
C7·356
C7·362
C7·371
C7·377
C8·379
Shaft
ARMRQ X 43
Diametter of Tip R
Outside 9.30mm / Inside 5.89-6.14mm
Number
#5
#6
#7
#8
#9
#10
#11, SW
Shaft Weigth(g)
R
44.5
45
44.5
48
47.5
51
50.5
S
46
46.5
46
49.5
49
52.5
52
Diameter of Butt(mm)
R
14.3
14.3
14.4
14.5
14.5
14.6
14.7
S
14.4
14.4
14.5
14.6
14.6
14.7
14.8
Frecuency(cpm)
R
248
255
263
271
279
288
298
Length(mm)
R
954
941
929
916
903
889
876
S
256
263
271
279
287
296
306
Torque by Shaft Model (deg.) – 2 star
R
3.82
3.75
3.68
3.55
3.48
3.35
3.27
S
3.77
3.70
3.63
3.50
3.43
3.30
3.22
Torque by Shaft Model (deg.) – 3 star
R
3.74
3.67
3.60
3.47
3.40
3.27
3.19
S
3.69
3.62
3.55
3.42
3.35
3.22
3.14
Torque by Shaft Model (deg.) – 4 star
R
3.50
3.43
3.36
3.23
3.16
3.03
2.95
S
3.45
3.38
3.31
3.18
3.11
2.98
2.90
Torque by Shaft Model (deg.) – 5 star
R
3.42
3.35
3.28
3.15
3.08
2.95
2.87
S
3.37
3.30
3.23
3.10
3.03
2.90
2.82
GRIP
| | |
| --- | --- |
| Name | BERES Rubber III N36 Gold |
| Material | Rubber |
| Shaft | ARMRQ X 43 |
| Gross weight (g) | 36.5 |
| Size | 60 |
Sản phẩm tương tự