HONMA BERES E-06 LADY FAIRWAY WOOD
EASY TO LAUNCH AND MAXIMUM DISTANCE
Mô tả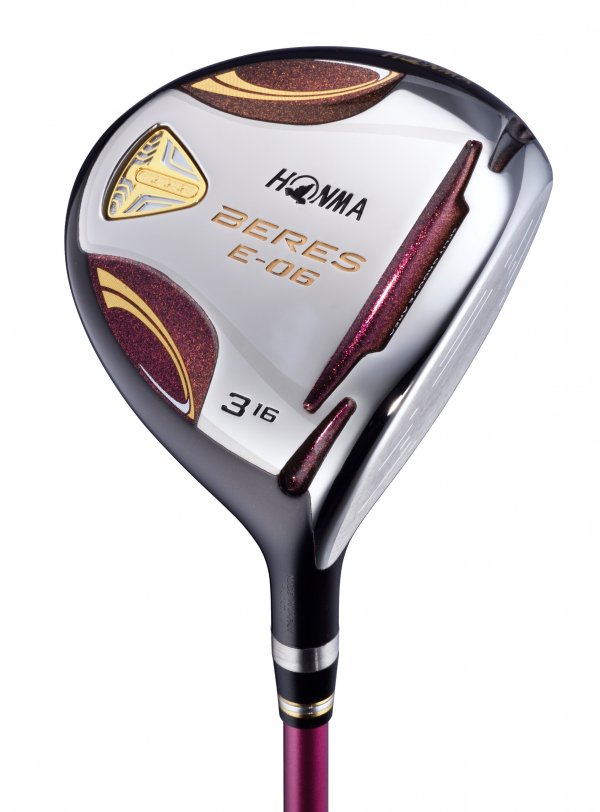 DESCRIPTION
Distance increase effect of sole slots [SPLIT GROOVE AREA]
Spring structure of slots on the center, toe and heel [SPLIT GROOVE AREA] helps deliver the maximum repulsion effect off the clubface at impact, helping golfers with slower clubhead speeds achieve longer carry distance.he center-of-gravity is set to be low and deep without limit of the internal load and SIS weight screws provides top priority to the grip of balls at any rate.
Confidence and low center of gravity with shallow clubhead
Low center of gravity combined with a large projected area on a shallower clubhead design, provides golfers with the added confidence at address to hit the ball higher, leading to better shots and lower scores.
ARMRQ X shaft that satisfies the high trajectories, low spin, and easily catches the ball
Light, strong and easier to hit.
As a result from the joing developement with Nissei we created a shaft 1g lighter than the previous model with the same frequency, with "10 axis PP" for increased strength, promotion improved ball launch angles and an easy to control shaft.
Manufactured with TORAYCA®T1100G multi-layered premium carbon fiber.
SPECIFICATIONS
Head material / Manufacturing process
SUS630 high-strength custom steel / Casting
Face material / Manufacturing process
High-strength custom steel / Rolled
Shaft
ARMRQ X 38
Loft (deg.)
3W / 16º
5W / 19º
7W / 22º
Length(inches)
41.75
41.25
40.75
Head volume (cm3)
178
167
159
Lie angle (deg.)
60
60.5
61
Face progression(mm)
17
18
19
Face Angle(deg.)
H1.5
H1.0
H0.5
Length of Hosel(mm)
52
Thickness of face(mm)
35
34.5
34.5
Thickness of head(mm)
38.5
37
36
Width of Head(mm)
84.5
81.5
79
Head Weight(g)
195
199
203
Distance to Center of Gravity(mm)
32.5
32
31.5
Height to Center of Gravity(mm)
25
25.5
26
Effective hitting area(mm)
10
9
8.5
Depth to Center of Gravity
35
34.5
34
Gravity Angle(deg.)
29
27
26
Moment of Inertia(g-cm2)
2700
2500
2400
Swing weight·Gross weight (g)
ARMRQ X 38
L
C1·276
C1·280
C1·284
A
C2·279
C2·283
C2·287
Shaft
ARMRQ X 38
Diametter of Tip R
Outside 8.60mm / Inside 5.72mm
Flex
L
A
Diameter of Butt
15.1
15.2
Number
Shaft Weigth(g)
3W
38.5
40
5W
38
39.5
7W
37.5
39
Number
Frequency(cpm)
3W
217
22
5W
222
229
7W
227
234
Number
3W
5W
7W
Length(mm) R
1060
1047
1034
Torque by Shaft Model (deg.) LADY shaft
2 star
5.90
5.90
5.90
3 star
5.75
5.75
5.75
4 star
5.30
5.30
5.30
5 star
5.15
5.15
5.15
Sản phẩm tương tự