BEZEAL 535 IRONS
THE TOTAL DESIGN OF HEAD AND SHAFT
HIGH PERFORMANCE CLUBS FOR LONGER CARRY DISTANCE
Mô tả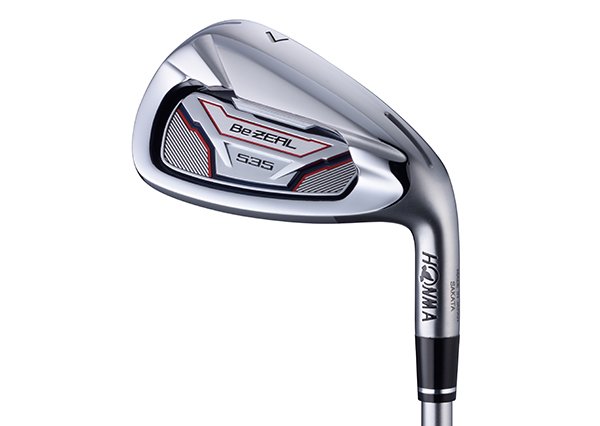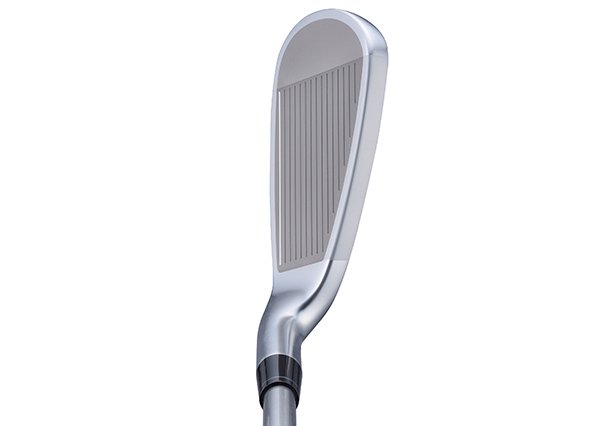 DESCRIPTION
BeZEAL 535 iron has been completelly redesigned for easy ball launch and maximum distance with increased forgiveness by the use of best materials and advanced engegiering.
Key technologies
Multiple materials used in the head. Head structure is manufactured in SUS630 steel, for the face High Modulus Titanium (HMT Ti) has been used to optimize weigth and strength at the time that superior repulsion and forgiveness are achieved.
Weight redistribution. The head has 4 slits (2 on the base and 2 inside of the head) to save weight that our engeniers relocate back and down on the sole.
Tungsten weighting. Two weigths (6gr on the toe and 3gr on the heal) are used back and down on the sole for best center of gravity location at the time that facilitates the launch of the ball.
Increased forgiveness on the toe and the heal to promote a "back to the center trajectory" on miss shots.
Size of the head has been redesign to provide a slightly wider sole and longer face for incresed confidence and forgiveness.
Premium head finishing for improved durability and superior looking.
VIZARD for BeZEAL 48gr. shaft
With EPT Technology. The VIZARD shaft has been designed to properlly transfer the energy to the head and the ball at the time that maintains a low spin rate.
Lower-kick-point and higher-kick-point have been relocated to increase the strength on the grip area for a better shaft timing.
Computer Aided Engineering has been used for the selection of the carbon fiber material from TORAY Inc. We have used the best materials including "a vibration damping material" selected among a hundred kinds of TORAYCA Preprigs carbon fiber with plenty of design simulation data.
STRUCTURAL DRAWINGS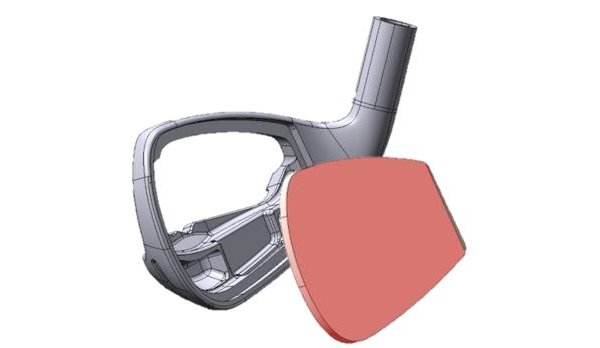 HMT Ti face and SUS630 steel body for superior performance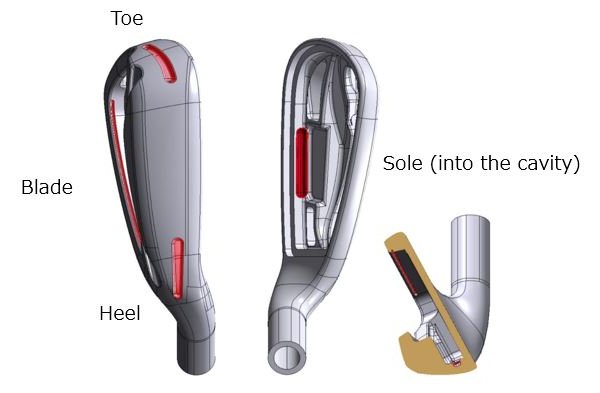 4 Slits have been added to the head for weight savings (2 located on the sole and 2 inside the cavity)

Head has been redesigned with a slightly wider sole and longer face, providing a bigger sweet spot and facilitate the launch of the ball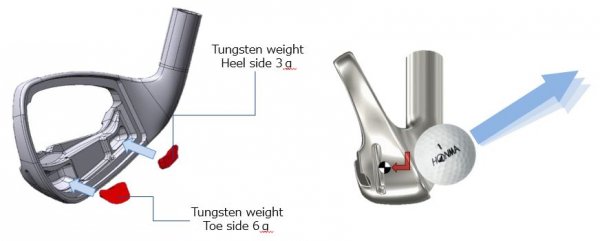 Two tungsten weights have been strategicaly located into the head to improve center of gravity position that facilitates iron stability and easiness to launch the ball
SPECIFICATIONS
Head material / Manufacturing process
SUS630 Steel / Casting
Face material / Manufacturing process
High-stregth custom steel / Rolled
Head inserts
Tungsten weights inside the head
Shafts
VIZARD for BeZEAL 535
Nippon NSPRO 950 GH
Head
#4
#5
#6
#7
#8
#9
#10
#11
AW
SW
Loft (deg.)
19.5
22.5
25.5
28.5
32.5
36.5
41.5
46.5
51.5
56
Length(inches) Graphite
38.5
38
37.5
37
36.5
36
35.5
35
35
35
Length(inches) Steel
38.25
37.75
37.25
36.75
36.25
35.75
35.25
35
35
35
Lie angle (deg.)
60.5
61
61.5
62
62.5
63
63
63
63
63.5
Face progression(mm)
1.75
1.75
2.25
2.25
2.75
2.75
3.25
3.25
3.75
4.75
Bounce Angle(deg.)
 
 
 
 
 
 
 
7
8
11
Length of Hosel(mm)
51
52
53
54
55
56
56
57
58
58
Length of head(mm)
108.5
108.5
108.5
108
108
108
108
108
108
108
Height of face(mm)
56.5
57.5
58.5
59.5
60.5
61
61.5
62
62.5
63
Thickness of blade(mm)
7.5
Width of Sole(mm)
24.5
24.5
25.5
26
27
27.5
28
28
29
29
Head Weight(g)
247
253
259
266
272
279
286
292
292
294
Distance to Center of Gravity(mm)
39
39
39
39
39
39
38.5
38.5
38
37.5
Height to Center of Gravity(mm)
19.5
20
21.5
21.5
22
23
23
23
23.5
24
Depth to Center of Gravity(mm)
6
6
6
5.5
5
5
4.5
4.5
3.5
3
Gravity Angle(deg.)
12.5
13.5
14
15.5
16.6
18
19
20
20.5
20.5
Moment of Inertia(g-cm2)
 
2690
 
 
 
 
 
 
 
 

Swing weight·Gross weight (g)

VIZARD for BeZEAL 535

R
C9·351
C9·357
C9·363
C9·369
C9·375
C9·381
C9·388
C9·393
C9·393
C9·395
S-R
D0·355
D0·361
D0·367
D0·373
D0·379
D0·385
D0·393
D0·397
D0·397
D1·399
S
D0·356
D0·362
D0·368
D0·374
D0·380
D0·386
D0·393
D0·398
D0·398
D1·400

Swing weight·Gross weight (g)

NIPPON NSPRO 950 GH

R
D1·389
D1·395
D1·401
D1·408
D1·415
D1·422
D1·430
D1·432
D1·432
D2·434
S
D2·394
D2·400
D2·406
D2·413
D2·420
D2·427
D2·435
D2·437
D2·437
D3·439

Shaft
VIZARD for BeZEAL 535
Diametter of Tip R
Outside 9.30mm / Inside 5.98~6.13mm
Head
#4
#5
#6
#7
#8
#9
#10
#11
AW
SW
Diameter of Butt
15.4
15.4
15.4
15.5
15.5
15.5
15.5
15.5
15.5
15.5
Shaft Weight(g)
R
51.5
52
51.5
52
51.5
52
51.5
50.5
50.5
50.5
S-R
53
53.5
53
53.5
53
53.5
53
52
52
52
S
54.5
55
54.5
55
54.5
55
54.5
53.5
53.5
53.5
Torque(deg.)
R
3.97
3.90
3.83
3.76
3.69
3.62
3.55
3.48
3.48
3.48
S-R
3.92
3.85
3.78
3.71
3.64
3.57
3.50
3.43
3.43
3.43
S
3.87
3.80
3.73
3.66
3.59
3.52
3.45
3.38
3.38
3.38
Frequency(cpm)
R
254
262
270
278
286
294
302
310
310
310
S-R
262
270
278
286
294
302
310
318
318
318
S
270
278
286
294
302
310
318
326
326
326
Length(mm) R
966
953
941
928
916
903
891
878
878
878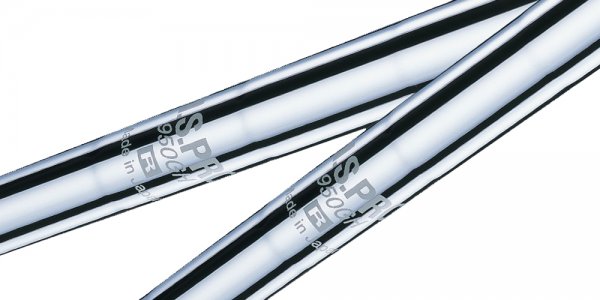 Shaft
NIPPON NS PRO950 GH
Diametter of Tip R
Outside 9.02mm
Diameter of Butt
15.5
Head
#4
#5
#6
#7
#8
#9
#10
#11
AW
SW
Shaft Weight(g)
R
94.5
S
98
Torque(deg.)
R
2.1
2.0
2.0
1.9
1.9
1.8
1.8
1.8
1.8
1.8
S
2.0
1.9
1.9
1.8
1.7
1.7
1.6
1.6
1.6
1.6
Frequency(cpm)
R
 
 
315
 
 
 
 
 
 
 
S
 
 
328
 
 
 
 
 
 
 
Length(mm) R
964
952
939
926
914
901
888
888
888
888
Sản phẩm tương tự