Characteristics
Overwhelming flight
The three factors that influence distance that are tuned for the average golfers.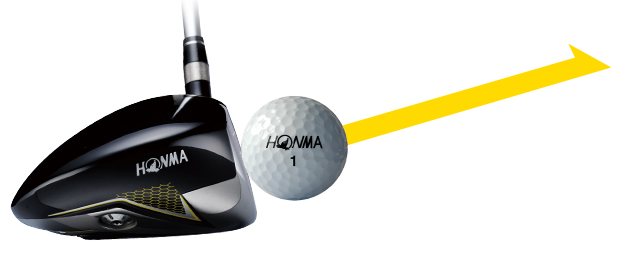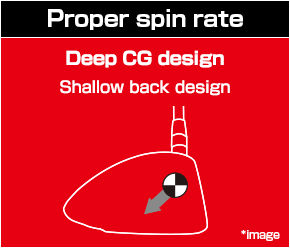 Hit a ball comfortably
Exchangeable weight screw adjust the CG
The 7g weight screw on heel, and Internal weight placed inside the head, shortens the distance to CG. 
This weight control, and the optimal gravity angle lets the club catch the ball easily.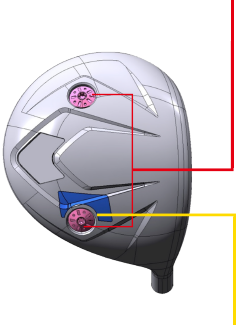 Exchangeable weight screw
| | | |
| --- | --- | --- |
| Toe | heel | |
| 2g | 7g | Standard mounted/Easy to hit |
| 7g | 2g | Catch the ball |
Weight screw(Separately sold)
Inner weight
In addition to the weight screw, placed In the heel, the inside weight is moved to help with natural club face rotation and enhances the transmission of the energy at impact.
The face is designed for an easy alignment
Comfort and stable direction
Shape generated from 
professional players' feedback
Square face
Easy to setup and adjust to the target
Stable and beautiful outline
The back of the crown is designed to be lower, this provides comfort and a gentle shape

Pleasant feeling / sound at impact.
Variable thickness and ribbed crown at the right places inside the head provides a pleasant sound when hitting the golf ball. 
The feeling of the ball hitting the face at Impact has greatly improved by receiving feedback from professional players.
A new VIZARD shaft was developed for Be ZEAL.

Our power of development that satisfies professionals is put into achieving amateur golfers' full potential.
EPT-tech Efficient Power Transmission Technology
Acceleration provided by "low kick point design"
High launch angle and optimized spin provided by "total stiffness design"
Reduction in power loss on impact with Zxion®, 
a vibration damping material
Single-piece design of head + shaft
| | |
| --- | --- |
| Wood: | Grip‐oriented design is especially designed for longer carry distance, which is easily achieved with high trajectory and low spin rate. |
| Iron: | Reduction in loss of momentum in follow-through. Special design for making shots with high trajectories and high spin rate that creates more backspin. |
ZXION®, a vibration damping material, is used for the tip.
The reduced shock on impact reduces loss in power transmission.
The reduced headshake achieves direction stability.
*ZXION® is the registered trademark of KB Seiren, Ltd.This material is widely used in the sports fields, including catgut for tennis rackets, aircraft, belt reinforcing materials, speaker cones, etc.
SPEC Be ZEAL 525 Left Handed
Head material / Manufacturing process
811Titanium / Casting
Face material / Manufacturing process
6-4 Titanium / Rolled
Loft (deg.)
10.5
Lie angle (deg.)
59.5
Head volume (cm3)
460
Length (inches)
45.75
Swing weight・
Gross weight

(g)

VIZARD for Be ZEAL
R
D1・292
SR
D2・295
S
D2・297
※There is no 1 W / 9.5 ° available in the Left-Handed model.
Made in Japan
SHAFT VIZARD for Be ZEAL

VIZARD for Be ZEAL
Material
Carbon+ZXION®
Kick-point
Mid
Flex
R,SR,S
# (No.)
1W
Gross weight (g)
R
48.0
SR
49.5
S
51.0
Torque (deg.)
R
5.80
SR
5.70
S
5.60
Frequency (cpm)
R
228
SR
236
S
244
Data refers to the shaft only